Tis the season…
In an effort to expand your gift giving ideas, we have compiled a short list of books that not only have the potential to entertain the readers in your family, but also expose them to the possibilities of reading beyond the bestseller list. Give a gift that shows that you value creativity!
From PunksWritePoemsPress
These are our books.
This Is Not a Movement             Two Cups of Tomatoes    

Dinner Table Refuge                      World Class Drag

2016 Best Book Award Finalist
All My Rowdy Friends                               Kanoli Kaleidoscope

The Unauthorized                                         
Autobiography                                            How To Tend Your Garden

---
Recommended
I like these books. Someone you love might also like these books.
creepy little death poems
by Tiffany Tang
(Poetry, Print, Dreality Press, $12)
From making cookies with Death to creating a shared Pinterest board, Tiffany Tang brings humor and absurdity to her conversations with this dark, and apparently misunderstood, figure of the afterlife in her first collection of poetry, cleverly illustrated by Lizzie Silverman. Originally created to cope with the onslaught of depression and then developed on a dare during National Poetry Month, these "creepy little death poems" are a testament to the transformative potential of writing, laughter and binge baking.
---
River City Secrets: Stories From Richmond
various authors
(YA fiction, Print, Chop Suey Books Books, $15)
River City Secrets is a collection of twenty-four stories of imagination and adventure, each set in one of Richmond's many popular historic locations. Written with children in mind, this is a great collection for adults, too!
Authors, all Richmond based, include: Kristi Tuck Austin, Elle Blair, Hazel Buys, Melissa Bybee, Deb Dudley, Robin Farmer, K.A. Herndon, Phillip Hilliker, Troy Howell, Erica Kirov, Lana Krumwiede, Stephanie McPherson, Brian Rock, Mary Helen Sheriff, Steven K. Smith, Chris Sorensen, A.B. Westrick, Vernon Wildy, Jr.
She Spoke of Earth and Sky
by Andira Dodge
(Poetry, Print/Kindle, self-pub, $10/$3.99)
"She Spoke of Earth and Sky" is the second collection of poetry by Andira Dodge, a woman-wanderer finding her voice amid the landscapes of her experiences, her imagination, and the woods and valleys of her home in Pennsylvania.
---
Little Anodynes
by John Pineda
(Poetry, Print/Kindle, University of South Carolina Press, $14.95/$9.99)
The third collection by the prize-winning Asian American poet Jon Pineda, Little Anodynes is a sequence of lyrical, personal narratives that continue Pineda's exploration of his biracial identity, the haunting loss of his sister, and the joys–and fears–of fatherhood. With its title inspired by Emily Dickinson, Little Anodynes offers its poems as "respites," as breaks in the reader's life that serve as opportunities for discovery and healing. Pineda deftly uses shortened lines and natural pauses to create momentum, which allows the poems to play out in a manner evocative of fine cinema, as if someone had left a projector running and these narratives were flickering and blending endlessly in an experience shared by the viewer, the storyteller, and the story itself.
---
From the Authors
The following listings came from the authors themselves! Might be a hidden gem or two in here.
the skeleton girl: a collection
by Tom Reed
(Multi-genre, Print, self-pub, $5.49)
This book is an interesting and inexpensive gift for anyone who enjoys a mix of prose and poetry, the dark and strange.
---
Th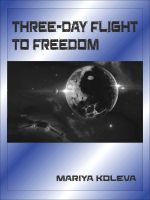 ree-Day Flight To Freedom
by Mariya Koleva
(YA fiction, eBook, self-pub, name your price)
What is the book about? This is the story of Shine, 17, who plans to run away from a dreary home town somewhere on Earth when a terrorist attack "blows" her off the planet into an unexpected space travel to discover people, relations and emotions she knew must be existing, but hadn't dreamt of encountering yet.
Why give it as a gift? Because it tells a story close to every teenage girl's heart – the story of adventure and growing up, the adventure of growing up. Space travel and life on other planets add spice to it
Who to give it to? A girl. A girl anywhere between 13 and 130 years of age.
---
See with Heart
by Janey Colbourne
(Poetry, Print/Kindle, Plantseer Press, $10.99/$3.49)
See with Heart is a book of poetry and photography by Janey Colbourne. Writing from the heart, and with a deep connection to the natural world, Janey is inspired by nature, human emotions and a strong sense of justice. The poems range from rage, to humour, to visions and inspiration. Through her writing she intends to bring connection and inspiration to people and give a voice to environmental and humanitarian rights. Janey also sees the humour and poetry in mundane, everyday life, with titles such as "Ode to a Coffee Bean". The poems are accompanied by Janey's beautiful nature photography. With a background as a musician and DJ, many of her poems are rhythmical, or in the style of Spoken Word poetry. Down to earth but eloquent, this is poetry that speaks even to people who don't like poetry.
---
An Acquired Taste for Absence
by Jeremy Rock
(Poetry, Print/Kindle, self-pub, $7/$2.99)
This would be a great gift for anyone on the tail end of the YA spectrum, as it touches on the struggle to get through youth with a strong heart and eyes that don't always need to look at the ground. Late adolescence is an isolating time for too many young people today, and maybe finding a familiar, nagging feeling put into words between these pages can ease it to rest. This book can read like an instruction manual of progress or a museum of traumas left behind. For those who need a little comfort in words and don't mind stinging candor, these pages can feel like a safe look into one's own sacrifices made to get by.
---
Paens, Problems & Possibilities 
by Victor Francis Williams IV
(Multi-genre, Print, self-pub, $12)
From the depths of delight and serenity to the heights of madness, the wacky robustness of the human plight is examined, jeered at, and cheered for in this newest collection of poems, short stories, and hypothetical-essays.
---
Hollow Girl
by Jennifer Johnson
(Erotic fiction, Print/eBook, self-pub, $12/$5)
This is an erotic novel written by the author of the popular tumblr blog Slut-Problems. It is a story about a young girl who thinks that she can manipulate men with her sexuality, only to find that it is a woman who betrays her trust. She is captured into sexual slavery and forced to do unspeakable sexual acts. A good gift  for sexual deviants.
---
Smut
by Sarah Shockey
(Poetry, Print, self-pub, $15)
It would be a great gift for anyone that loves poetry. The poems in it explore areas of the heart, and is ideal for anyone that is emotionally driven. It contains not only poetry but also contains blackout poetry and a short story. Having all three of those things allows the reader to pick a written poem, a visual poem, or delve into a story.
---
Asleep Inside Mania
by Nelson Miranda
(Poetry, Print, self-pub, $9.25)
A great gift for anyone who enjoys poetry. Each poem is like a puzzle, but one that shifts and changes if it's read again at a different time. It is thought provoking, heart breaking at times, and filled with bits and pieces of hope.
---
Looking Inward: 50 Haiku for Reflection & Introspection
by Mallory Rowe
(Poetry, Kindle, self-pub, $0.99)
Haiku in 5 sections: Self, Us, Earth, Universe, Beyond
---
Ricochet
by Mallory Rowe and Peter Catsimpiris
(Poetry, Kindle, self-pub, $0.99)
If an experience can generate a poem that somehow captures its essence, then a poem — itself an experience — can beget a new poem that shares its being. As lovers find in each other their lost halves, these pairs of poems have made each other whole. Peter's responses to Mallory's original haiku help to bookend ideas that we both hold deeply and shared long before we met.
---
encircled
by John Reinhart
(Poetry, Print, Prolific Press, $7.95)
"encircled" is a chapbook of poems about the people who encircle us – family, friends, neighbors, coworkers – the extraordinary ordinary people who mosaic our biographies. Just the thing to give as a gift to those extraordinary ordinary folks in your life! The poems range from humorous (daughter at the urinal) to gut wrenching (conversation over the fence about a neighbor's brother serving a life sentence), all from the author's everyday experience.
---
Owned by the Sheikh
by Kylie Knight
(Erotica, Kindle, self-pub $2.99)
A perfect gift for anyone down on their luck in love. The woman accepted a job which turned out to be the dream she had given up on.
Special Bonus Billionaire Romance Book Collection Inside!
---
Finding Ava
by Cristina Grenier
(Erotica, Print/Kindle, Monster Media LLC, $11.99/$2.99)
For anyone who thinks you can judge a book by its cover…this story says you're dead wrong, with an HEA, to boot.
---
Saved by the Duke
by Matilda Hart
(Erotica, Print/Kindle, self-pub, $7.33/$0.99)
For lovers of Regency romances, with an erotic bite.
---
A Couple o' Not-so Indie Titles, but Full o' Indie Spirit
The Big Rewind
by Libby Cubmore
Raymond Chandler meets Nick Hornby in this clever noir romp through hipster Brooklyn as a mysterious mix tape puts a young amateur sleuth on the hunt for a killer—and for the truths hidden within her own heart.
---
Dark Sparkler
by Amber Tamblyn
The lives of more than twenty-five actresses lost before their time—from Marilyn Monroe to Brittany Murphy—explored in a haunting, provocative new work by an acclaimed poet and actress.